Additional speakers and moderators may be added to the list below as they are confirmed in the weeks ahead. Check back routinely for regular updates.
---
Keynote Speakers
Rob Ellis
My Safe Work | Founder & President

Rob Ellis became an outspoken advocate for
health, safety and wellness in the workplace after the death of his son David in 1999. Rob has developed international partnerships with companies dedicated to becoming champion employers. His work with young people, parents, and businesses has been widely publicized across Canada and the United States, and he is regularly sought after to participate in international events as a keynote speaker.
As a former business owner, Rob knows the challenges that companies face in recruiting and retaining the best people. He believes that by partnering with industry leaders to promote positive change, a cultural shift will take place in our communities – a shift that will increase the importance of health, safety, and wellness for all workers.
Rob can almost always be seen wearing the original Jersey of Courage.


Robert Ghiz
CWTA | President & CEO


Robert Ghiz is President and CEO of the Canadian Wireless Telecommunications Association (CWTA) and Chair of the Mobile Giving Foundation Canada. Twice elected Premier of Prince Edward Island, Robert's many accomplishments at the province's helm include his successful stewardship of its economy through the 2008 global financial collapse and his contributions to PEI's record-setting economic growth following the recession. While Premier, Robert also led successful trade missions in Europe, Asia, South America and the United States, and was proud to implement full-day kindergarten for the first time in the province's history.
Robert is proud to be the Canadian wireless industry's champion in Ottawa, where he works to ensure the industry continues to enhance the personal lives and economic opportunities of Canadians across the country.


Jimmy Miller
National Association of Tower Erectors | Chair
MillerCo | President & CEO

Jimmy Miller is Chair of the National Association
of Tower Erectors (NATE) board of directors, and president and CEO of MillerCo Incorporated, an esteemed U.S. tower contractor and electrical service provider based out of Mississippi.
Jimmy held various telecom supervisory and management roles from 1982 to 1997, during which time he developed an expertise in two-way-radio, fiber optics and microwave communications. He also played a pivotal role in bringing a 300-plus cellular network build to market.
Jimmy and his wife, Tonia, co-founded MillerCo in 1997 with just a single truck. Today, dozens of the company's trucks can be seen throughout the country from New Mexico to Indiana and the entire eastern U.S., servicing tower lighting systems as well as providing L&A services.
Jimmy has been active in NATE as a voting member for 19 years and has served as a director for multiple terms. He was voted in as chair of the NATE board this February.
---
All Speakers & Moderators
Adam Gale – President, Vertical Specialties Inc.
Aimee Arsenault – Safety Manager, Tridon Communications
Alex Cannon – Research Scientist, Environment and Climate Change Canada
Anne-Sophie Tétreault – Senior Expert, HSSEQ Compliance & Risk Management , Cognibox
Bill Griswold –  President/Chief Engineer,  Griswold Tower Software, PC
Boris Weisman President, Corporate EMC Ltd.
Brenden Tanchuk –  Junior Team Lead, Corrosion Service Company Limited
Brent Hrywkiw – Telecom Sector Leader – Western Canada , Stantec
Chris Dickson –  Health and Safety Manager, Wesbell Technologies
Clay Parchewsky – Vice President of Health, Safety and Environment, WesTower
Craig Dalglish –  Senior Operations Manager, Professional Services, Wesbell Technologies
Craig McLellan – Safety Consultant, Nouvelle Hauteur
Denis Darveau – Senior Director of Wireless Construction, Vidéotron
Dennis Graham – Senior Manager – Health Safety and Environment, CBC/Radio-Canada
Devin Finnigan – Engineering Manager – Product, Trylon
Diana Samy – Civil Engineer, Rogers
Duane MacEntee – Executive Director, National Wireless Safety Alliance
Ed Hachey –  VP – Canada, SBA Communications
Fabrice Blanchet – Président, GRAVI-T ZERO
Gordon Lyman – President, eSystem Training Solutions
Hervé Landreville – Vice President, GRAVI-T ZERO
Jeanne Piercey – Owner, P-SEC
Jeff Selby –  Compliance Officer/ Field Safety, Trylon
Jeremy Buckles –  Safety and Compliance Manager – International , SBA Communications
Jerry Bezner – Director of Tower and Accessory Sales, Alliance Corporation
Jimmy Miller – Chair, National Association of Tower Erectors
John Wahba, Ph.D., P.Eng., P.E. – Principal Engineer, Turris Corp.
Jordan Camplin –  Construction Manager, Wesbell Technologies
Julien Thibeault – Directeur de service Ingénierie des métaux et de la corrosion, Englobe
Keith Ranney – Director, National Implementation and Network Management, Bell Mobility
Kevin Toderel – Product Manager, UAV Division, GAP Wireless
Kyle Thorpe – Project Manager, Paul J. Ford
Laura Marciniwe – President, Teletek Structures
Leo Helmer – Vice President – Business Development, Westower Communications
Luc Marceau – Vice President of Staffing and Support Solutions, NWS Wireless
Marina Guerra – Senior Manager of Network Construction, Bell Mobility
Mark Fudge – Director of Engineering, WesTower
Mathieu Coulombe – Senior Health and Safety Specialist, Bell
Murray Hunt – V.P. Operations, Canadian UAV Solutions Inc.
Nathan Schauerte – President, WesTower Communications
Nicholas Kyonka – Program Manager, Structure, Tower & Antenna Council
Pascal Texier – Vice President, Stantec
Rick Kirby – Executive Vice President, WesTower Communications
Rick Tiller – President & CEO, Tiller Engineering
Riley Brown – Director, Site Acquisition and Management, Xplornet
Rob Ellis – Founder & President, My Safe Work
Robert Ghiz – President & CEO, CWTA
Ron O'Neil – Director, 3M Fall Protection Group
Roy Holland – Sr Civil Engineering – Specialist, Rogers
Scott Connor – Director of Training, TEAM-1 Academy
Serge Arseneault, P.Eng. – Senior Project and National Standards Manager, WSP
Serge Charron – Director, Site Operations, SBA Canada
Sharyn Gravelle – Vice President of Telecommunications, WSP Canada
Shawn Hoffmeyer – Senior Engineer, P-SEC
Simon Weisman, P.Eng. M.A.Sc., FCSCE – President, Weisman Consultants
Sylvain Bourque – Civil Aviation Safety Inspector, RPAS Transport Canada
Terence Saar – Senior Advisor Business Process & Analysis, Bell Mobility
Tom Morin – Director of Manufacturing, NWS Wireless
Walter Wannamaker –  Vice President, Vertical Specialties
Wolfgang Fieltsch – Team Lead – CP and AC Mitigation, Stantec
---
Conference Co-Chairs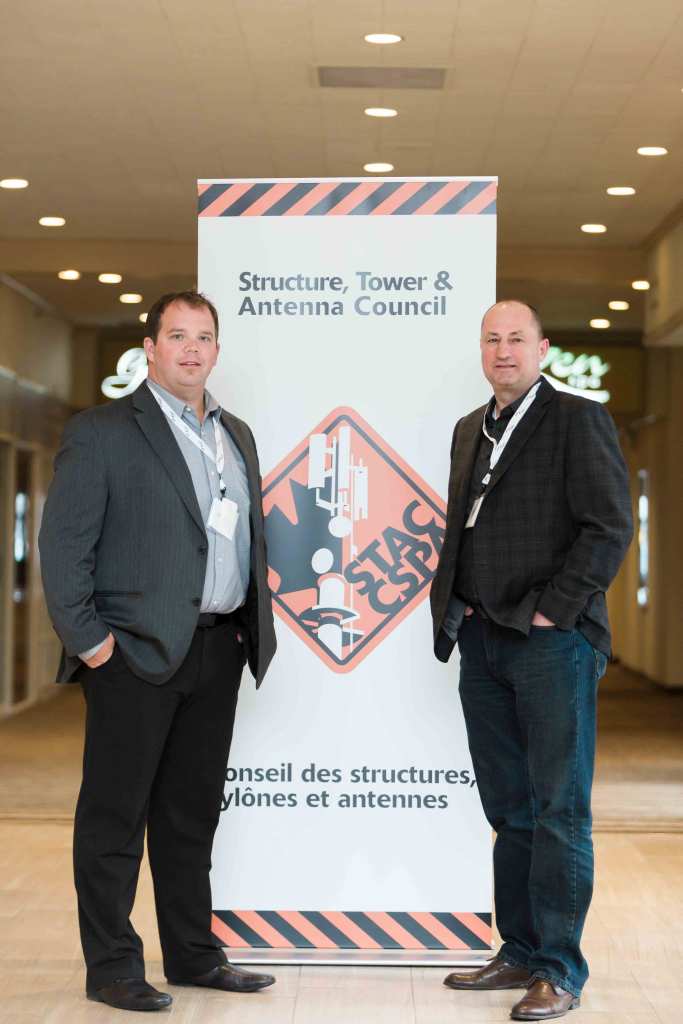 Clay Parchewksy (WesTower) and Keith Ranney (Bell Mobility) have been members of the STAC Steering Committee since its inception and are the STAC 2019 Conference & Exhibition Co-Chairs.
Clay Parchewsky is the Vice President of Health, Safety and Environment (HSE) at WesTower Communications Ltd in Canada. Through his 20+ years in the wireless and broadcast tower industry, Clay has worked on tower installations, maintenance and reinforcing projects across North American. He has worked through the full breadth of challenges our industry can offer including from "turn key" tall tower builds, antenna mast and transmission lines, and cellular network projects. Some of his work has included projects in excess of 2,000'.
Prior to joining WesTower Communications, Clay worked with LeBlanc & Royale, LeBlanc Broadcast Ltd and Radian. He is also a certified commercial diver and a journeyman crane operator by trade.
While Clay remains active on tower projects his main focus today at WesTower is providing leadership and oversight for all aspects of the company's comprehensive Occupational Health and Safety program. He is driven to expand WesTower's safety landscape to a standard unsurpassed in the industry. Clay has a particular passion for fall protection issues and safety procedures for working at heights, and he represented the North American tower industry as a voting technical committee member on Fall Protection with the CSA z259. Clay helped to lead the efforts to found Canada's Structure, Tower & Antenna Council (STAC), which works to ensure communication towers continue to be constructed with the highest regard to worker safety. He has been very active within STAC over the past three years, including by serving on the STAC Steering Committee and leading the STAC Workplace Health & Safety Committee.
Keith Ranney is National Director, Wireless Operations & Implementation for Bell Canada and has domestic and international experience in telecommunications in managing, engineering, planning, implementation, maintenance and optimization of wireless networks. Accountable for all 9000-plus locations in BCE's tower site portfolio across Canada, Keith provides leadership to Bell teams in National Build & Operations, Finance, Standards in Construction, Real Estate Acquisition & Municipal Affairs, and Co-location.
Keith began his career in telecommunications with Bell Canada in 1987 after graduating from DeVry Institute of Technology. He also later studied business management at Queen's University and York University. In his 32 years of experience at Bell, Keith has moved throughout the Bell Network in Cable, Fibre and Wireless.
Keith is a founding co-chair of the STAC Steering Committee and the lead of the STAC New and Emerging Technologies Committee.